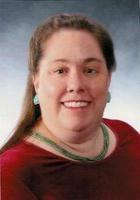 Deborah Jane Power, D.O. is a native of San Pedro, California and has been practicing medicine in Arizona for over ten years. She received her Bachelor of Science in Kinesiology from the University of California, Los Angeles and a Master of Science in Exercise and Sport Sciences at The University of Arizona. She earned her D.O. degree in 1997 at the Kirksville College of Osteopathic Medicine, Kirksville, Missouri and interned at Midwestern University/Arizona Graduate Medical Education Consortium at Tucson General Hospital. Dr. Power completed her rheumatology fellowship at the University of Arizona in 2002 where she still has an appointment as a an adjunct faculty member.
Dr. Power has a special interest in pediatric Rheumatology, and is one of the few rheumatologists in the state with this expertise. In addition to caring for children with Juvenile Idiopathic Arthritis, (formerly called Juvenile Rheumatoid Arthritis), she specializes in the care of children with Systemic Lupus Erythematosus, Vasculitis, Dermatomyositis and Spondylarthropathies. In addition to seeing children and adolescents at Catalina Pointe, she continues to see patients at the Children's Clinics for Rehabilitative Services affiliated with Tucson Medical Center three afternoons a month.
Dr. Power is an active member of the Tucson Osteopathic Medical Foundation and has been elected to the Board of Trustees from 2004-present. She has been a member of the Steering Committee for the Southwestern Conference on Medicine since 2000, and served as chairman, 2014-2016.
She has participated as an investigator in over 70 clinical trials and has presented both nationally and internationally.